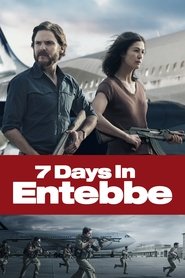 7 Days in Entebbe
7 Days in Entebbe (2018)
Inspired by the true events of the 1976 hijacking of an Air France flight en route from Tel Aviv to Paris, and the most daring rescue mission ever attempted.
Entebbe (film)
Entebbe[2] (titled 7 Days in Entebbe in the U.S.) is a 2018 crime thriller film directed by José Padilha and written by Gregory Burke. The film recounts the story of Operation Entebbe, a 1976 counter-terrorist hostage-rescue operation. The film stars Rosamund Pike and Daniel Brühl. It was released in the United States on March 16, 2018 and in the United Kingdom on May 11, 2018.
Entebbe is the fourth film to dramatize the events of Operation Entebbe, after the American TV films Victory at Entebbe (1976) and Raid on Entebbe (1977) and the Israeli film Operation Thunderbolt (1977). Additionally, the 2006 film The Last King of Scotland includes the raid as a subplot, and the 1986 film The Delta Force portrays a fictional anti-hijacking operation modeled in part after Operation Entebbe.
Duration: 107 min
Quality: HD 1080p
Release: 2018